COVID-19 Information
9/16/21 UPDATE:
EZ Dental, LLC is still following all safety measures provided by OSHA, CDC, and the Department of Public Health to keep our patients and team members safe. Please ask us any questions or concerns you may have about our policies by calling our office directly.
---
Please review our new office protocols of EZ Dental. If you have any questions, give our team a call at (978) 685-5562.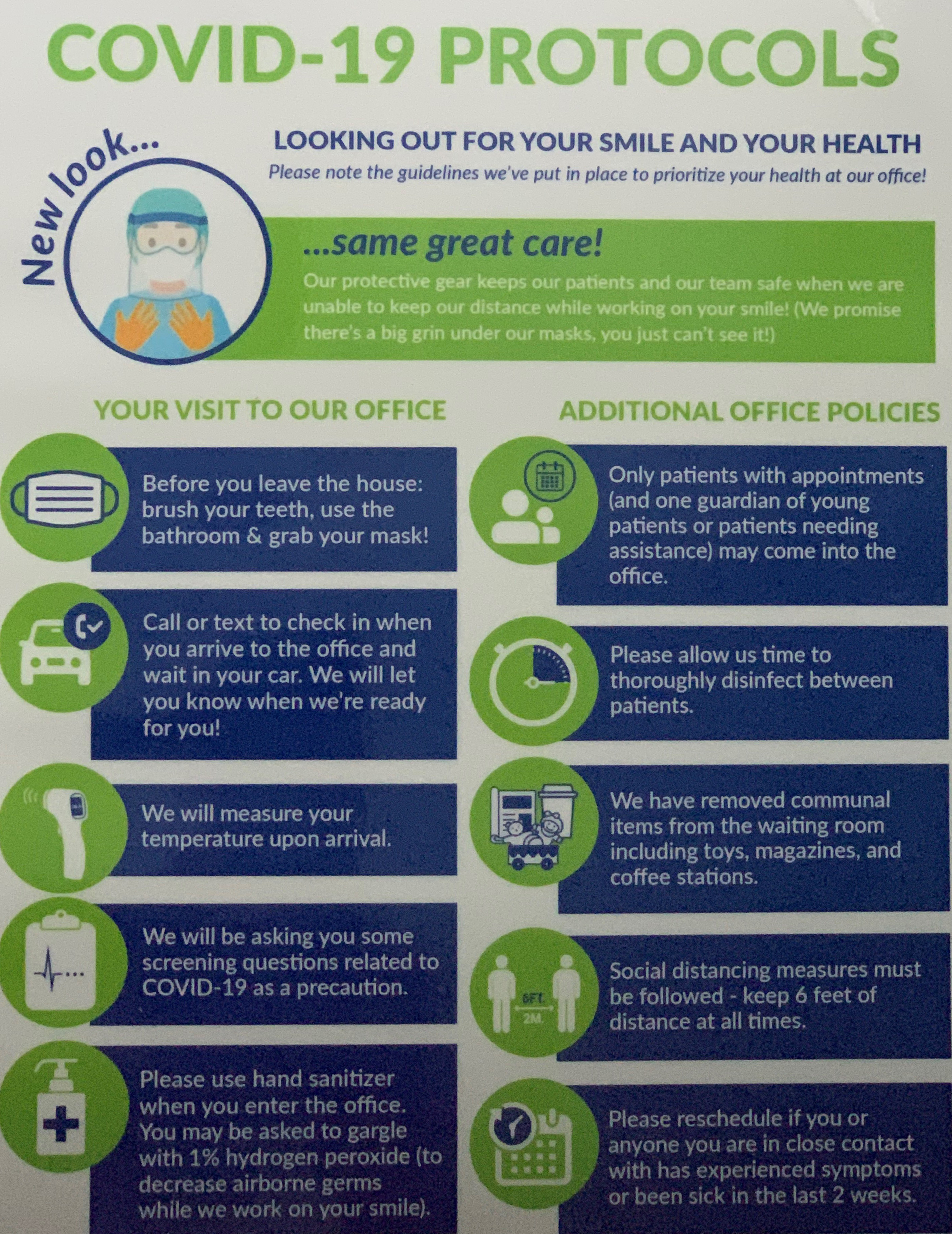 ---
What Your Dental Team is Doing to Keep You Healthy
Dear Patients:
The health and well-being of our patients is our top priority, now and always. In response to the coronavirus pandemic, we are closely following and adhering to precautions advised by the Centers for Disease Control (CDC) and the Massachusetts Department of Public Health.
We want to assure you that we are taking continuous steps to ensure that our office remains a safe place for every patient. It's importantt for you to know that dentists are experts in infection control. For instance, we have been trained to prevent the spread of infectious disease such as flu, HIV, hepatitis, and tuberculosis. The precautions we take every day will also help prevent the spread of the coronavirus.
We follow precautions developed by the CDC to protect both health care personnel and patients. We sterilize all instruments after each use and clean each dental operatory after each patient visit, using surface disinfectants that kill all known infectious diseases, including coronavirus. Dedicated hand washing and one-time use disposable materials also help maintain a safe environment for our patients. Our staff regularly trained in these procedures.
Working with our facility managers, we've ensured that our cleaning team has a sufficient stock of supplies. We have asked them to apply additional focus and time on cleaning door handles, faucets, and other items with high-traffic hand touches. Magazines in our waiting areas are also a risk from frequent contact, so they have been removed.
Seeing your dentist is a vital investment for your general health. Our oiffice remains open to care for our patients following the above guidelines. If you have a fever, are exhibiting symptoms of respiratory illness, or have had recent contact with someone who has tested positive for COVID-19, you may be a risk to other patients or staff members. If you are experiencing fever (greater than 100.4), cough, or shortness of breath, please remain at home and contact your primary care physician immediately.
If you would like to reschedule an upcoming appointment or talk through any concerns, please feel free to contact our office at (978) 685-5562.
Remember, the best way to protect yourself and your community is with everyday preventative actions, like washing hands often and disinfecting surfaces regularly. These actions will help minimize and slow the spread of the coronavirus.
For the most up-to-date information and guidance, please visit the CDC website at www.cdc.gov/coronavirus.
Thank you,
Dr. Rachelle Abou-Ezzi
EZ Dental, LLC
---
EZ Dental, LLC
3/18/2020
Dear Patients:
Our top priority is the health and well-being of our patients, families, staff, and community. To that end, we have decided to close our practice for the next three weeks, starting on March 17, 2020, in accordance with guidance provided by the Massachusetts Dental Society. We believe that this closure will allow us to more effectively adhere to Governor Baker's recommendations and the Centers for Disease Control's (CDC) guidance of social separation.
As health care professionals, we believe we have a role to play in "flattening the curve" in order to follow sound, scientific public health advice to help limit infections and slow the spread of the virus. Our office will be closely reviewing our appointment schedule. If you have a non-urgent appointment scheduled with us this week, our office will be in touch to help reschedule your appointment.
There will be a doctor on-call in the event of a dental emergency. Should you require emergency dental care, please call our office as you normally would at 978-685-5562 and one of our doctors will get in touch with you.
We did not make this decision lightly. A great deal of care, research, and planning guided our decision. We believe that by taking these extraordinary precautions, we can make a difference in helping to preserve the limited supply of personal protective equipment critical for emergency dental care and frontline health care personnel responding to the pandemic. We will continue to evaluate the situation as it evolves and determine when it is appropriate for us to return to our normal business hours.
Again, please understand that we are making this decision with the health and well-being of our patients, our families, our dental team, and the community in mind.
Please stay safe and healthy.
Sincerely,
Dr. Rachelle Abou-Ezzi