The Art of Smile and the Center of Comfort
Rachelle A. Ezzi is committed to providing excellence in dentistry, and stands out as a leading dentist in North Andover. The doctor uses the latest in dentistry techniques to provide you with a beautiful and healthy smile. Additionally, Rachelle A. Ezzi believes strongly in education to prevent oral health problems before they occur, and makes sure to keep patients fully informed about their dental health. Read more about North Andover dentist Rachelle A. Ezzi below.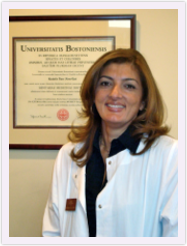 Dr. Rachelle A. Ezzi, DMD
Before moving to the United States, Dr. A. Ezzi was born and raised in Beirut, Lebanon. Dr. A. Ezzi attended and graduated from St. Joseph School of Dentistry in Lebanon, Summa Cum Laude, in 1991. She then moved to North Andover to attend the two-year advanced standing program, a program designed for international dental graduates who wish to practice in the United States, at Boston University Henry Golman School of Dental Medicine, where she graduated Summa Cum Laude in 1995.
Dr. A. Ezzi is a member of the American Dental Association and the Massachusetts Dental Society. She has lived in North Andover, MA for over 25 years and loves being a part of the community. She is dedicated to serving her patients with the highest quality dental care. Come in and meet her today!
Hours of Operation
Monday: 9:00AM - 6:00PM
Tuesday: 9:00 AM - 6:00 PM
Wednesday: 9:00AM - 7:00 PM
Thursday: 9:00AM - 6:00PM
Friday: 9:00AM - 6:00 PM
Saturday: 9:00AM - 5:00 PM