The Art of Smile and the Center of Comfort
Rachelle A. Ezzi is committed to providing excellence in dentistry, and stands out as a leading dentist in North Andover. The doctor uses the latest in dentistry techniques to provide you with a beautiful and healthy smile. Additionally, Rachelle A. Ezzi believes strongly in education to prevent oral health problems before they occur, and makes sure to keep patients fully informed about their dental health. Read more about North Andover dentist Rachelle A. Ezzi below.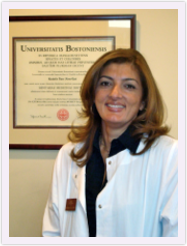 Rachelle A. Ezzi, DMD
Dr. Ezzi graduated from St. Joseph School of Dentistry, Summa Cum Laude, in 1991 and from Boston University School of Dentistry, Advanced Standing, Summa Cum Laude in 1995.
Dr. Ezzi is a member of the American Dental Association and the Massachusetts Dental Society.
Hours of Operation
Monday: 9:00AM - 6:00PM
Wednesday: 9:00AM - 6:00PM
Thursday: 9:00AM - 6:00PM
Friday: 9:00AM - 6:00PM
Saturday: 9:00AM - 1:00PM